Pagdilao orders review of cops' crisis management skills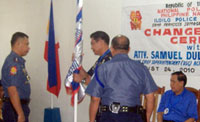 TURN-OVER. Chief Supt. Samuel Pagdilao, police regional director, presides the turn-over of command between outgoing Iloilo Provincial Police Office director, Senior Supt. Renato Gumban, and his successor Senior Supt. Gil Levin at the IPPO headquarters in Sta. Barbara, Iloilo yesterday, in the presence of Gov. Arthur Defensor Sr.
Chief Supt. Samuel Pagdilao Jr., police regional director, yesterday ordered all provincial and city directors to conduct a review of the crisis management skills of their respective police personnel.
Pagdilao said he will not allow that a similar result, or even worse, to Monday's hostage crisis in Manila will happen in Western Visayas.
"As a commander, they must be able to command and control any situation, not the least a crisis situation. Even our commanders and chiefs of police need to do it," he said.
He added: "I would also look up my notes, my training and see to it that I brush up on our crisis management skills."
Pagdilao also ordered the Special Weapons and Tactics or SWAT units to live up to the words "Special Weapons and Tactics."
"They are skilled because they have attended training and retraining so they can hone and sharpen their skills. We could not assume that the last incident, the one that happened in Ceres compound here, will not be repeated," he said.
In July 6, 2009, a disgruntled former bus conductor held hostage five employees of the Ceres Liner at the company's motorpool office in Jaro, Iloilo City after a failed robbery attempt.
During the hostage situation, police failed to control the crowd and apparently did not designate anyone to negotiate with hostage-taker Marlon Inanoria, who later surrendered.
"Between that event and the next, if there is going to be any in the future, kailangang maghanda tayo. We continuously need to sharpen our tools, our equipment, and our skills so that when we are confronted with the situation later, we can handle it best according to our training," Pagdilao said.
The continuous retraining of SWAT and Public Safety Battalion units will not only cover anti-hostage but terrorism operations, especially bus, building, boat and airplane assault tactics.
Pagdilao said there is also a need to conduct an inventory of the police units' equipment.
"We need to be equipped. We have to be tooled to be able to do a special job. Those who assaulted the bus were not equipped. Where were those ladders? Where were those special equipment that could open those doors and windows of a bus?" he added.
Pagdilao said there should also be an inventory of the pool of negotiators.
"We could not assume that anybody could negotiate. There must be someone who have undergone a course and has the expertise and skills in negotiation," he said. "So those who are trained to negotiate will have to impart these knowledge and skills to others."
Pagdilao also ordered the immediate conduct of simulation exercises between the police personnel and tri-media for the two parties not to be amiss on procedures and steps in handling crisis management.*