'Remove fishpens by Sept. 15'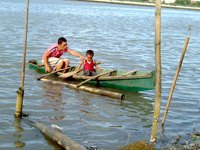 A father and son sail along the river in Brgy. San Juan, Molo district as Mayor Jed Patrick Mabilog orders the removal of illegal fishpens in Iloilo River by mid-September.
Some 80 fishpen owners occupying the Iloilo River were asked by the city government to remove all their illegal structures by September 15 or be dispersed.
Fish pens, commonly known as "punot," are for keeping live bait fish in a holding cage.
Mayor Jed Patrick Mabilog said he has given the owners ample time to remove floating debris and devices obstructing the flow of the river.
These illegal fishpens are located from South San Jose, Molo to Sooc, Arevalo.
Mabilog said each fishpen owner will be given a P3,000 cash assistance to serve as their capital for an alternative livelihood.
The owners will be given notices that will be delivered to their respective homes.
"After that date, we have no other choice but to apply drastic action. We have already informed them (owners)," he said.
Mabilog said he is serious in implementing city orders as long as the public can benefit from it.
City Agriculturist Josegil Parreñas met with the fishpen operators Tuesday to discuss the mayor's alternative source of income for them.
Mabilog said village head Genoveva Cabulong of Dungon-A in Jaro district, who has a fish business, is giving an orientation to the affected operators and workers so they can find opportunities for work at the Iloilo Fish Port Complex.
The turn-over ceremony for the financial assistance will be held soon, he said.