Mang Inasal opens 279th branch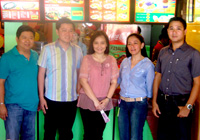 NEWEST BRANCH. Mang Inasal franchisee Jess Garcia, Mayor's Office Executive Assistant Patrick Alan Sy, franchisees Dr. Mary Sancha Pauline Garcia and Dr. Aileen Granada, and City Assistant Department Head Jess Sio during the latest branch's opening yesterday.
Mang Inasal opened its 279th branch yesterday in front of Central Philippine University in Jaro district, Iloilo City.
It is the 14th branch of Mang Inasal in Iloilo City.
Mang Inasal said it is doing its share in alleviating the unemployment burden of the country through its more than 8,000 employees system-wide.
Mang Inasal, known for its tasty chicken inasal and unlimited, rice is gearing towards 500 stores by 2012.
Mang Inasal is indeed slowly capturing the heart of more Pinoys everywhere! Mang Inasal Bugal naton!
For more info, please visit www.manginasal.com