Weekly cleanup of public markets mulled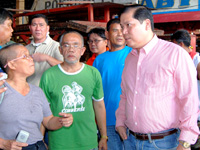 Mayor Jed Patrick Mabilog talks to Iloilo Terminal Market Vendors Association officials led by its president Tinong Gascon during the massive cleanup of the market over the weekend, with Councilor Rodel Fullon Agado (4th from left) and other city officials.
The Iloilo city government is mulling a weekly general cleanup of all public markets to promote cleanliness and healthy conditions among vendors and buyers.
Mayor Jed Patrick Mabilog said the weekly cleanup, preferably on weekends, should be strictly implemented, a Philippine News Agency report said.
This should be spearheaded by the market vendors association, and the public market administrators, he said.
Mabilog lamented that public markets, especially their meat and fish sections, are full of sludge and mud, and even remains of animal meat are clogging the drainage.
He added that vendors may be sweeping and collecting their trash but it's not enough. He also stressed that the garbage collection scheme inside the markets are not thorough.
Mabilog said the city will implement a weekly monitoring system for public markets, and check if these are thoroughly cleaned.
He said that a clean public market is a boon to local economy and boosts the morale of the vendor and stall owners.
Recently, Councilors Ely Estante and Rodel Fullon Agado led a general cleanup of the Iloilo Terminal Market with the help of the vendors and volunteers.
The two councilirs were aided by the Iloilo Citizens Action Group Volunteer Fire Brigade in flushing all the mud and dirt out of the public market.
They are also planning to lead another general cleanup of other public markets in the city.