The Department of Labor and Employment yesterday announced that the Regional Tripartite Wages and Productivity Board 6 has approved a P15 increase in the minimum wage in Western Visayas.
The increase set the new minimum wage in the region at P265 per day
MANILA – The government under President Benigno Simeon Aquino III will further promote private-public partnerships so the country can have more development projects without using up all its financial resources.
"I say PPP will yield good results," he said during his maiden State of the Nation Address yesterday.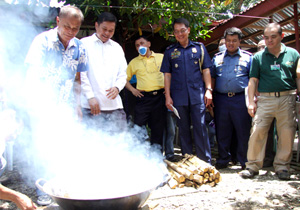 MONTESA GRIÑO-CAOYONAN

Chief Supt. Samuel Pagdilao Jr., police regional director, has brushed aside reports the police planned to kill members of the Chiva-Fajardo Robbery Group if they will have an encounter with policemen.