'Deaths of Chiva brothers should discourage criminal acts'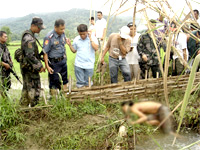 Gilbert Chiva, who had two arrest warrants for robbery, dies after an encounter with authorities Saturday morning.
Chief Supt. Samuel Pagdilao Jr., police regional director, said over the weekend the death of two members of the Chiva-Fajardo Robbery Group in a shootout with authorities should serve as a stern warning to notorious criminal gangs.
These criminal gangs victimizing the peaceful citizens of Iloilo province should be warned, he said.
Pagdilao assured the people of Iloilo the operations against robbery groups will be sustained until all similar groups operating in Western Visayas will be neutralized.
He said the police in Western Visayas will stop at nothing in order to flush out all robbery gangs in its jurisdiction, he added.
The Chiva brothers, Gilbert, 25 and Joey 22, were killed in an encounter with composite teams of the Philippine National Police and the Philippine Army Saturday morning in Calinog, Iloilo.
Both brothers are residents of Sitio Bolicao, Brgy. Alibunan, Calinog.
The shootout took place about two months after the spate of robberies in Iloilo province started, ending weeks of manhunt of the brains behind the robbery hold-up incidents in the third and fourth districts.
Gilbert, a father of five, was hit on the chest and temple while Joey, on his shoulder and right jaw.
Arnel Chiva, 23, brother of Chiva-Fajardo Group leader Jenel Chiva was also arrested.
Some 50 law enforcers, including members of the Iloilo Provincial Police Office Task Force Anti-Robbery and Extortion led by Supt. Ipil Dueñas joined the operation.
Other teams were from the Regional Special Operations Group, Regional Intelligence Unit 6, IPPO-Special Weapons and Tactics Team, Criminal Investigation and Detection Group, 3rd and 4th Public Safety Maneuver Platoons, IPPO Explosives Ordnance Division, and the Philippine Army's 47th Infantry Battalion based in Calinog.
The authorities were about to serve two warrants of arrest, both for robbery cases, to Gilbert and one each to Joey and Arnel when the shootout occurred.
IPPO director, Senior Supt. Renato Gumban, said the teams started their operation at around 3 a.m. following an information from a villager that the three suspects were at Brgy. Alibunan.
The area could be reached only by foot, and police and military men had to cross a river and ricefields to reach the site where houses were built 200 to 300 meters apart.
The police and military teams managed to cordon the area at around 5 a.m.
The authorities found the suspects at the house of Allan Camagan, the Chivas's distant relative.
Authorities at first thought the three suspects will surrender after Camagan came out, with his hands raised, identifying himself as the house owner.
Meanwhile, Gilbert and Joey tried to sneak out through the back door.
When they saw the police running after them, Joey allegedly fired at the group and a gun battle ensued at the ricefield, killing the two brothers instantly.
Amid the exchange of gunfire, Arnel managed to throw a grenade that dropped about one and a half meters from where Dueñas was seeking cover, but the grenade did not explode.
Arnel was later arrested while hiding in the vicinity of Camagan's property. He is now detained at the Calinog Police Station.
Meanwhile, Camagan could be charged for harboring of criminals.
But Camagan said it was only the first time that the three suspects slept at his house.
The three told him they would leave in the morning but then the authorities came.
He also denied any involvement in the Chiva-Falajardo Robbery Group's operation, saying he did not hear the suspects talk about their activities.
ROBBERIES
With members numbering about 20, the Chiva-Fajardo Group started their robbery binge after the May 10 elections.
Headed by Jenel, its members include all his six brothers and their cousins and remnants of other robbery groups like the Fajardo and Alarba Group.
They mainly operate in central Iloilo, from Passi City and to Tubungan town.
In the past two months alone, the police alleged the group was responsible for robbing a scrap iron businessman in Tubungan; a collector of Taytay sa Kauswagan in Badiangan town; a rice trader in Bingawan; a collector of EN Lending collector which also involved two bystanders hit in a crossfire; a Life Bank collector in Calinog; and a project officer of Saint Elizabeth Development Program.
They also did not spare a balot trader whom they robbed and killed in June; a banana vendor whom they robbed two Thursdays ago; and a fish vendor, also in June.
Meanwhile last Friday, police teams also pursued another group of robbers in the LBC branch robbery in Palmares St., Passi City who carted away P485,293 before fleeing on board a red Yamaha STX motorcycle without plate number.
Policemen trailed the robbers to their hiding place along the Iloilo-Capiz-Antique tri-boundary, but only found a snub-nosed .38 caliber pistol, a 357 revolver, and a grenade.