FDC spearheads petition to keep MIWD public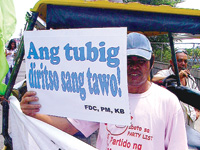 Members of FDC-Iloilo and its allied groups hold a picket to protest the privatization of the Metro Iloilo Water District.
The Freedom from Debt Coalition-Iloilo yesterday launched a petition to protest the move to privatize the Metro Iloilo Water District as proposed by the water district's board and supported by Iloilo City Rep. Jerry Treñas.
Members of FDC-Iloilo together with members of Katulong ng Bayan and Partido ng Manggagawa held a picket in front of MIWD office along Bonifacio Drive in Iloilo City to air their opposition.
They carried placards that read "water is a human right" and "Ang Tubig Serbisyo. Indi Negosyo" or water is service, not business.
The FDC-Iloilo petition paper stated the issues why the group oppose the privatization of the water district, saying it "violates people's fundamental right to water; it will result to ballooning water rates, the process lacks transparency; and the move is marred by patronage politics and political maneuverings."
The group will circulate the petition paper to different sectors, including the water consumers, to gather support. They will also submit the document to the city mayor and vice mayor, and the Sangguniang Panlungsod committee on public utilities for the conduct of a public hearing.
FDC-Iloilo said in a statement it stands firm on the tenet that "water service must remain in people's hand and must not be given to private entities or corporations."
They also criticized the inadequate intervention of the Iloilo City Government through the SP, declaring that "it did not exercise its powers and authority to look into the matter and institute immediate response" by calling for a thorough investigation into the controversy."
"While we support the position of the employees and the officers of the management against the move of its Board of Directors to privatize MIWD, we are convinced that they must also be subjected to investigation in order to comprehensively address issues regarding conflict of interest and the management's financial irregularities," Vophi Pendon, FDC-Iloilo deputy secretary-general, said.
Ted Aldwin Ong, secretary-general of FDC-Iloilo, claimed that the privatization of MIWD is a deliberate move of top Iloilo City politicians.
"This is the reason why they permitted the water supply problem of Iloilo City to deteriorate in order to give room for private players," he added.