Ilonggos join nation in welcoming President Noynoy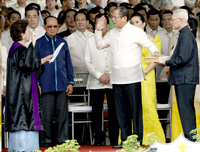 President Benigno Simeon "Noynoy" Aquino III takes his oath before Supreme Court Associate Justice Conchita Carpio-Morales as the 15th Philippine president during the inaugural rites in Quirino Grandstand in Manila yesterday, with former president Fidel Ramos, former president Joseph Estrada, sister Kris Aquino-Yap and, Fr. Catalino Arevalo.
The installation of President Benigno Simeon "Noynoy" Aquino III as the 15th President of the Philippines yesterday elicited varied reactions among Ilonggos but many expressed elation, based on the report of the Philippines News Agency.
Lea Lara, executive director of the Iloilo Business Club, said that for the first time she was able to listen to a "humbling speech" that "touches the basics" expected in a government.
"It's a memorable time for all of us. There's a real hope for us Filipinos in the next years," she said.
Lara said that Aquino made Filipinos feel that the government exists to really serve them.
However, she said that some of the plans mentioned by Aquino were quite difficult to implement because they "touch on the system" but still, she hoped that such will be realized.
"If we set our minds on doing things that we want then surely it will happen. Let us give this administration a chance," she added.
Similar sentiment was shared by L'Michelle K. Horlador, a former councilor of Badiangan, Iloilo. Horlador said that Aquino's victory is a "vindication, a triumph for democracy and justice."
Jigger Latoza, who is from the academe, said that Aquino delivered a "great speech, brief and to the point." He added that the new President "has effectively gotten across as the people's President by articulating the daily concerns of ordinary citizens and voicing out the issues citizens grapple with always."
"Indeed as the President implied, gaining back the people's trust in government may have to start with basic things," he said.
Tourism Regional Director Edwin Trompeta said he believes that the plan of President Aquino to invest more in infrastructure "is a great boost to the country's tourism industry that has lagged behind its neighboring countries."
"I wish to see in my lifetime a tourism highway that will connect Iloilo to Caticlan cutting travel time by two hours with world-class public toilet like those I have seen in other countries with even much less attractions. Maybe a tad higher than what former President Gloria Arroyo said, which is outstanding," he said.
Carla Solmantil, a government employee, expressed hope that President Aquino would be able to cope with his commitments and for him to be able to run the country well.
Luna Sales, a boarding house administrator, said she also looks forward to the realization of Aquino's thrusts which he enumerated in his inaugural speech.