The installation of President Benigno Simeon "Noynoy" Aquino III as the 15th President of the Philippines yesterday elicited varied reactions among Ilonggos but many expressed elation, based on the report of the Philippines News Agency.
Governor Arthur Defensor Sr. will lead the new set of Iloilo provincial officials in taking their oath of office in rites today at the New Iloilo Provincial Capitol Building in Iloilo City.
The incoming governor's son, Arthur Jr., elected representative of the Third District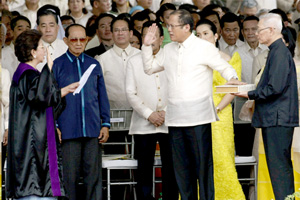 REY BANIQUET/OPS-NIB

Iloilo City Mayor Jed Patrick Mabilog has emphasized a three-point priority as he starts office today.