PGMA bid Ilonggos 'goodbye' thru Tigum bridge inauguration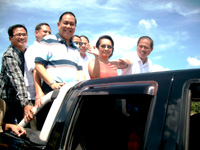 Pres. Gloria Macapagal-Arroyo waves to the spectators during the inaugural drive-through for the new Tigum Bridge in Brgy. Tabucan, Cabatuan, Iloilo yesterday. With her on board the vehicle are: incoming Governor Arthur Defensor Sr., outgoing Cabatuan Mayor Ramon Yee, DPWH Undersecretary Rafael Yabut, incoming 3rd District Rep. Arthur Defensor (partly hidden) and other officials.
President Gloria Macapagal Arroyo's last visit to Iloilo is her expression of saying goodbye to the Ilonggos through the inauguration of Tigum bridge in Cabatuan, Iloilo, according to 3rd District Representative Arthur Defensor, Sr., incoming governor of Iloilo province.
Defensor said that President Arroyo's term ends June 30 and she is "leaving us with "concrete legacies" along with other various infrastructures established in Western Visayas.
Pres. Arroyo personally thanked the people of Iloilo for giving her the "opportunity to serve" them and the rest of the nation during her term as the country's 14th president.
In brief remarks after the ceremonial drive-thru of the newly constructed Tigum bridge, the Chief Executive said it was an honor to have served the people of Iloilo and that the P160-million bridge is part or her legacy to the province.
The Tigum bridge was destroyed when flood waters brought about by torrential rains spawned by typhoon Frank in 2008 nearly cut the vital link of nearby towns to the city in half.
President Arroyo forthwith instructed the Department of Public Works and Highways to rebuild the bridge and allotted P160 million for its reconstruction.
"On my last visit to your province as your President, I am very grateful and let me take the opportunity to thank the people of Iloilo for your support and for giving me the honor of being able to serve you during and after typhoon Frank and even long before that," the President said in Ilonggo.
"Damo gid salamat (thank you very much)," she said in the Ilonggo dialect.
During the occasion, the President interviewed two beneficiaries of the new Tigum bridge: Vitaliano Arcos, a 70-year-old watchman of the firm that built the bridge and Norberto Caballero, a 59-year old tricycle driver.
Arcos said if it weren't for the employment opportunity offered by the construction of the Tigum bridge, he would not have been able to provide for his family of 16 children.
Caballero, on the hand, said that with the opening of the bridge, the ferrying of passengers to and from their destinations will now be easier.
He also said that he expects to double his income since most of it will not have to go to the repair and upkeep of his tricycle that regularly bogs down from passing through the poorly built and temporarily used bailey bridge that was constructed in lieu of the destroyed Tigum bridge.
Caballero and Arcos were profuse in thanking the Chief Executive for the construction of the bridge saying they could expecting it to have an impact on their daily chores. (PNA with T.Villavert/PIA)