President Gloria Macapagal Arroyo's last visit to Iloilo is her expression of saying goodbye to the Ilonggos through the inauguration of Tigum bridge in Cabatuan, Iloilo, according to 3rd District Representative Arthur Defensor, Sr., incoming governor of Iloilo province.
Contractual employees of the Metro Iloilo Water District (MIWD) could now heave a sigh of relief. Well, at least in the next three months.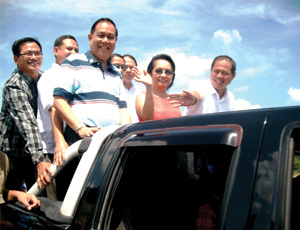 PHOTO COURTESY OF PIA-6
All newly-elected city officials will take their oath of office today in a simple but meaningful program at the Iloilo Freedom Grandstand.