Phil. Opera Company 'Harana' wows Antiqueños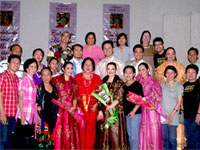 Members of Antique Provincial Historical and Cultural Council chaired by Governor Salvacion Z. Perez (center) pose with the theater singers of Philippine Opera Company after their successful rendition of beautiful indigenous Filipino songs in a show called "Harana" at CAP bldg, San Jose, Antique.
SAN JOSE, Antique – The splendid performance of the Philippine Opera Company singers and artists of the musical show "Harana" left Antiqueños asking for more as they unwind their presentation at CAP building on Tuesday.
Harana is Philippine Opera Company's newest addition to its exciting line of show packages.
It aims to show the evolution of Philippine music through song and movement. Each presentation is theatrically played with authenticity, originality and visual excitement.
The word "Harana" is the Tagalog name of traditional form of courtship in which a man woos a woman's affection by singing underneath her window.
Antique is one lucky province to be visited by the Philippine Opera Company. The free musical show was courtesy of Filipino Heritage Festival, Inc., Antique Provincial Historical and Cultural Council and Provincial Government of Antique in line with the celebration of National Heritage Month.
The month of May every year is declared as national Heritage Month by virtue of President Gloria Macapagal Arroyo's Presidential Proclamation No. 439 issued in August 2003 "in recognition of the need to create among the people a consciousness, respect and pride for the legacies of Filipino Cultural History and love of country". (PIA)