The country's major palay producing regions, including Western Visayas, have posted low area harvested and yield due to the dry spell caused by El Niño phenomenon, according to the first-quarter official report of the Bureau of Agricultural Statistics (BAS).
Jealousy allegedly sent a man in a fit of rage and attacked his wife Saturday evening inside their home at Brgy. Bita, Dueñas, Iloilo.
Presidential frontrunner Benigno "Noynoy" Aquino III will induct into office this city's new set of officials in June.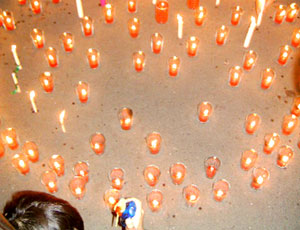 PHOEBE ROBLES, INTERN
Congressman
TREÑAS, Jerry 101,304
GONZALEZ, Raul, Jr. T. 76,478
MALABOR, Mansueto A. 6,838
GAJE, Juanito L. 335
City Mayor
MABILOG, Jed Patrick E. 80,654
GONZALEZ, Raul, Sr. M. 65,509
JAMORA, Lorenzo H. 38,309
BALSOMO, Vicente A. 247
BENEDICTO, Amelita D. 223