Sumakwelan holds writing tilt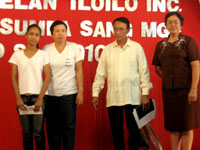 Short story writing winner Annie Lyn Jamora with Remia Genova Gumacal, Crisostomo Balairos and Maria Luisa Gibraltar
Sumakwelan Iloilo, an organization writers in the vernacular, held a competition on binalaybay and short story writing recently.
It was the Jalandoni Memorial National High School (JMNHS) that bagged the first place prizes in both categories.
For short story writing, Annie Lyn Jamora of the said school won first place and received P5,000 cash, second placer was Vida Joy Rotelo who received P3,000 cash, and third placer was Adrianne Aneca who received P2,000 cash.
In binalaybay writing, Frank Debit of JMNHS won first place and received P3,000, second placer was Daishel Balsomo who received P2,000 cash and third placer was Ferdinand Cabales who received P1,000 cash.
After the awarding came the oath taking of the new officers and members of Sumakwelan for 2010 until 2011. The club's president is Atty. Rex Muzones.
The event was held at River Queen Hotel, Iloilo City.