Living Innovations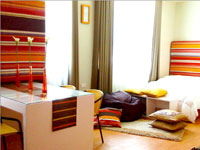 TOWNSVILLE UNIT 303. Mai-T used colorful, affordable fabric as a large wall panel at the dining room and headboard. The accent yellow frames were bought from DIY stores and she added black and white photos. The furniture such as shelves and dining table were very simple and painted in white. The yellow outdoor chairs were used for a fun look.
Maria Isabella breathes life into your home
One's interior space should have an ambiance suitable for its purpose. How one's space is designed can actually have an impact on the ambiance of the place as well as the well-being of the people living in it or using it. That's the reason why interior designing is important and you have to trust professionals to be able to do this for you.
An interior designer will solve your spatial concerns for you, whether residential, commercial, hospitality or educational spaces. There are considerations like space planning, electrical and lighting design, what type of design would suit you and your family's lifestyle, what look and colors you prefer, what appropriate sizes of furniture to put in and what materials and finishes to choose, among others.
Maria Isabella Trinidad Robles or popularly known as "Mai-t", is one of Iloilo City's budding interior designers, having studied Interior Design at the University of Santo Tomas and graduated in 2006 as Magna Cum Laude. She ranked 10th place in the board exam for interior designers in 2007.
Mai-t started her business, Living Innovations Design Unlimited in April 2009 after she realized that there was a shortage of materials for use in interior designing here in Iloilo City. "It is for this reason that I opened Living Innovations. I offer more variety for window treatments, home accessories, wallpapers and one-of-a-kind furniture," Mai-T said.
Her office and showroom is located at Townsville Studios, Aurora Subdivision. The said building's lobby is actually her first commercial project. One notable project is Club 21 (Function Room and KTV). She has more residential ventures as well.
MODERN ASIAN
Mai-t prefers the Modern Asian style in designing. "I am not a fan of overly carved furniture and details. I like antiques although I only use them as accents. Modern Asian is cleaner and serene. I'd love that touch for my house," she said.
As for her trademark, Mai-T said that she's still on the "discovery" stage, wherein she has yet to determine which style she works best. But she could handle just about any style that her client wants – classic, modern contemporary and industrial – for residential or commercial projects.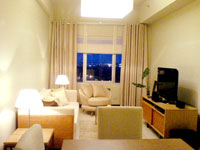 FAIRWAYS TOWER 3 BEDROOM UNIT. The unit is for rent (currently by a Japanese expat) thus requires less built-in furniture. Since expats are the target market, the owners invested in good quality, stylish and modern furniture. The overall design is simple and elegant, basically in white and wood. It is also very easy for the resident to accessorize the unit according to his or her taste because of the resiliency of the interiors.
UPDATED
Interior Designing is a dynamic industry where the designer has to continue learning, otherwise, her style will become obsolete.
Mai-t keeps herself updated by learning new design trends and new technologies. "I travel, observe and research and I go to Manila and look for new design materials. I attend seminars and product presentations, being a member of the Philippine Institute of Interior Designers (PIID)," she said.
Mai-t keeps her communication lines with clients, open. "I listen to what the client wants. After all, it's the client who stays in that place and it should reflect his or her personality, especially when it is a residential space.
For items that clients have a hard time letting go of but may not help the interior design at all, Mai-t always suggests "closed storage" such as armoires, chests and decorative boxes. That way, clients get to keep their mementos in style.
At one time, Mai-T had a client who had lots of antique things because they moved from their ancestral house which is twice the size of their new house. "I asked the client to update her antiques such as putting a stand on some of her pieces to make them "new" table accessories. ," Mai-T said. (See photo with angels on top of the buffet).
"I also suggested that she should covert the beautiful green jar into a table lamp. That way, her accessories will seem "new" even if she had it even for decades," she added.
Mai-T always makes it a point to clients that they should put plants inside their home. "Plants make a big difference inside a home. It does not only help purify the air, it may also inject an accent color amidst the neutrals or go with the concept used," she concluded.
As her business slogan goes, Mai-t continues to "create better spaces for better lives."
(Living Innovations Design Unlimited is located at Townsville, Aurora Subdivision and can be reached through telephone number (033) 3017663.)