Propping up claims that there is indeed a plot to kill Iloilo City Mayor Jerry Treñas, two self-confessed former members of the Revolutionary Proletarian Army-Alex Boncayao Brigade (RPA-ABB) exposed yesterday that their group was offered money in exchange for Treñas' life.
Iloilo City mayoralty candidate and former Justice Secretary Raul Gonzalez Sr. dubbed as part of the grand design to discredit him the purported expose of two alleged members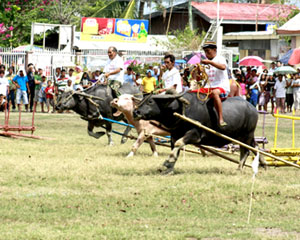 JACK TENTIA
Mayor Jerry Treñas firms up lead on his bid for congressman in the lone district of this city. Treñas is way ahead of his opponents, Lone District Rep. Raul Gonzalez Jr. and Mansueto Malabor, in the latest scientific survey conducted by the reputable survey firm – Random Access Consultants, Inc. (RACI).