Starting yesterday, Philippine Army troops in Panay were already placed on red alert status.
"We are on red alert in preparation for the incoming elections. This is in coordination with the Philippine National Police and, of course, with the Commission on Elections (Comelec),"
Iloilo City Vice Mayor Jed Patrick Mabilog looks forward to another successful celebration of Labor Day tomorrow, May 1, 2010, through a day-long Job Fair at the SM City event center, organized by his office and the Iloilo Business Club.
"Representatives of 78 national and local companies," Mabilog enthused, "will be around to accept applicants.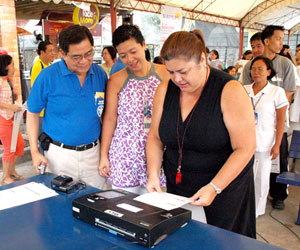 Senator Benigno Cojuangco Aquino III. 12 long years in public office. 12 long years of the Filipino people's trust and confidence. And what accomplishment to report now? Track record to boast of? Nada.