Gonzalez Sr. denies hand in alleged slay plot on Treñas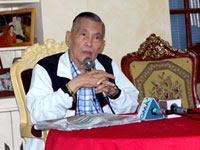 Mayoralty candidate Raul Gonzalez Sr. called for a press conference at his residence to dispel allusions that he has something to do with the alleged assassination plot on Mayor Jerry Treñas.
As expected, former Chief Presidential Legal Adviser Raul Gonzalez, Sr. did not hide his disgust over allusion that he has something to do with the alleged assassination plot on Iloilo City Mayor Jerry Treñas.
Gonzalez, who is running for the city mayoralty race, said that he has had enough that every time there is an issue on Treñas, it is readily connected to him and his family.
"I'm fed up with all these stories that everything that happened on Treñas is linked to us," he said quipping, "basi kung maglupot si Treñas, i-akusar ko nga ginpaka-on siya poison (I'm afraid they will also blame me if Treñas suffers from diarrhea)."
The alleged police colonel who informed Treñas about the reported kill plot was not also spared from Gonzalez's tirade.
"I decry this colonel. This colonel is a coward for making a story that he cannot substantiate. Who is he? What is the source of information?" Gonzalez stated.
"I'm challenging that police colonel to come out... he should come out with his evidence since his allegations are so damaging. On the basis of unverified report the entire police force has been mobilized and it is sad that they are insinuating that my group has something to do with this so-called assassination plot," he added.
He also appealed to stop the black propaganda against him and his son, who is seeking a re-election against Treñas.
"I'm quite disturbed by the proliferation of stories which to me is ridiculous... I'm very sensitive about this because if you look at my background I don't have a record where I abused somebody..." Gonzalez added.
A few days ago, Treñas revealed to have received reports of a plan against his life.
The mayor claimed that a police colonel bared that killers were hired to have him murdered.
The two hired killers were allegedly from Mindanao and from Cainta, Rizal.
"Isa ka colonel sa pulis nagkadto sa akob balay nagpahibalo nga ang kontrata sa kabuhi ko nabayaran na sang tunga. Nakabakal na sila M-16. Gina-casing na ako subong," Treñas claimed.
Even Iloilo City Police Office (ICPO) officer-in-charge Senior Supt. Dennis Basngi admitted to have also received the said information.
In fact, he claimed that he already augmented the area security personnel detailed to secure the mayor since Sunday evening.
For now, the ICPO chief revealed that he tasked a group of policemen to unearth the reports of the presence of hired killers.