Gonzalez delivers promised 'mother of all rallies' for Gibo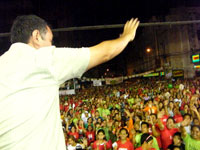 Lakas-Kampi-CMD presidential candidate Gilberto "Gibo" Teodoro waves to a sea of people gathered by former DOJ Secretary Raul Gonzalez Sr. at the Iloilo City Freedom Grandstand during a mammoth political rally for Gibo and other Lakas-Kampi-CMD bets.
As promised former Justice Secretary Raul Gonzalez Sr. delivered a mammoth crowd for Lakas-Kampi-CMD presidential candidate Gilberto "Gibo" Teodoro at the Iloilo City Freedom Grandstand last Tuesday.
A policeman on duty in the area estimated the crowd to reach 30,000. Because of the throng of people gathered at the Freedom Grandstand area traffic was closed and rerouted to Muelle Loney road.
People were clad mostly in green shirts, the color of Lakas party, while women belonging to the "ladies brigade" of Dr. Pacita Gonzalez, Raul Sr.'s wife, wore red shirts.
Placards and streamers of local candidates under the Gonzalez group as well as that of Gibo and the Lakas senatoriables also dominate the rally area.
The rally started around 5 p.m. with the presentation of Lakas local candidates led by mayoralty bet Raul Sr., congressional bet Raul Jr., vice mayoralty bet Antonio Pesina and their 12 candidates for councilor.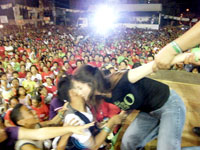 Taclac Rep. Nikki Prieto Teodoro, wife of Lakas-Kampi-CMD presidential candidate Gilberto "Gibo" Teodoro, is being held back on the arm by a bodyguard as Ilonggo males reach out to buzz the beauteous congresswoman.
Lakas senatoriables present were Raul Lambino, Rey Langit, and Bebot Bello. Ramon Guico was represented by his daughter while Bong Revilla and Lito Lapid were absent due to prior commitments.
The crowd virtually went unruly when vice presidential bet Edu Manzano entered the stage and started shaking hands with the people surrounding it. Manzano even reached out to kiss one of the audience.
Also on stage were Gibo's wife Rep. Nikki Prieto-Teodoro, Presidential Assistant Raul Banias, Antique Governor Sally Perez, and the barangay captains supportive of Gonzalez led by ABC president Irene Ong.
After the speeches of the senatoriables present, Raul Sr. presented to the crowd Teodoro whom he declared as the only presidential candidate fit for the job.
He called on his supporters to vote for Teodoro and his running mate Manzano as well as the six senatorial candidates of Lakas-Kampi-CMD.
Ray Roquero, secretary general of Lakas-Kampi-CMD, became elated when he learned of Gibo's successful rally in Iloilo City hosted by the Gonzalezes.
Roquero thanked the Gonzalezes for going all the way for Gibo and the other administration candidates despite the internal problems incurred by the party.
Roquero, however, is optimistic that all the problems currently experienced by the party will soon be resolved and the campaign for Gibo's candidacy will solidify.
Various surveys show that Gibo lagged fourth to top contenders Noynoy Aquino, Manny Villar and Joseph Estrada.
But the Lakas-Kampi-CMD party secretary general would not budge. He is confident that Gibo's campaign will surge once the party's machinery starts to roll.