GK SOOC Youth Artists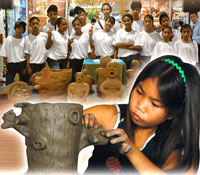 The Gawad Kalinga Sooc Terracotta Youth Artists.
showcase works at SM Delgado
The Gawad Kalinga Sooc Terracotta Youth Artists is having a two-week exhibit at SM Delgado beginning last April 11.
Halad Duta II (Earth Offerings) showcases the terracotta works of the youth artists from the PLDT-SMART Amazing Gawad Kalinga Village in Sooc, Arevalo, Iloilo under the guidance of their mentor Ilonggo artist PG Zoluaga.
The exhibit is also part of the activities of Smart Communications, Inc. (SMART) to celebrate Earth Day 2010.
The GK Sooc youth artists had their first exhibit, Halad Duta, at SM City Iloilo in October 2009. Following the success of their first show, the children also displayed their art works during the Dinagyang Festival.
Halad Duta II runs from April 11 to 24, 2010 and is presented by SMART in cooperation with the Gawad Kalinga Foundation and SM Delgado.
The PLDT-Smart Amazing GK Village in the Arevalo District is the sixth GK Village adopted by PLDT and SMART. Resident-beneficiaries of GK Sooc are former street children and their families from various parts of Iloilo city.