Angelu brings hope to children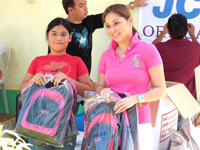 Angelu de Leon and a recipient show the school bags.
Joins hands with the Global Family Outreach Ministry
Actress Angelu de Leon, who stars in GMA's "The Last Prince," was in Guimaras last March 26. She visited the San Isidro Elementary School, her second visit in the past several months. This is in connection with her work alongside Global Family Outreach Ministry and Pastor Paul Waldmiller, a Christian missionary from the United States of America.
Angelu brought gifts that included school bags and slippers to the students of the said school.
For those who are not yet aware, Angelu is a Born Again Christian and her advocacy is to help children in need. Through her effort, she hopes that she could share the message of "hope through Jesus Christ as Lord and Savior."
While the children and their parents who were present that day felt blessed, Angelu said that she was equally blessed to be in a position to give and show love, as what the Bible tells her to do.