PURR
The GMA 6 Trade Show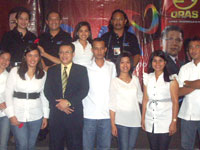 The men and women of GMA 6's Ratsada.
"News has two colors, no matter what – black and white. It's the very truth that we are always looking for. We do not compromise our story."
These words of Ratsada news anchor Jonathan Gellangarin, spoken during the first GMA 6 Trade Show and press conference held at Westown Hotel recently, remind us of GMA News and Public Affair's thrust of providing "serbisyong tutoo."
At the gathering, varied GMA 6 personalities shared several good news to the guests that were composed of media personalities and advertisers.
Oliver Amoroso, senior manager for Marketing Services of GMA, shared that the network is celebrating its 60th or rather, diamond anniversary this 2010. "It's fitting that we use the diamond as our symbol. The diamond is known for its hardness and brilliance. Nothing can cut the diamond," he said.
Ilonggos have a lot to look forward to during this anniversary year. "We will have more locally-produced programs. A local ETV program is already in the works. We will have a formidable GMA Iloilo team to reckon with,"he added.
Irene Ortigas, Ratsada associate producer, shared that the program is now a part of the global community, through Facebook. To access, Ratsada's e-mail is ratsadagmatv6@yahoo.com or search for Ratsada GMA Iloilo.