Boracay landowners given 90 days to register property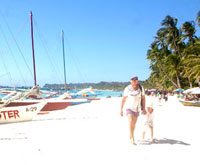 A foreign tourist and his young child walk on the powdery white sand of Boracay island. Many domestic and foreign tourists are expected to take their vacation on the popular island resort this Lenten season.
BORACAY ISLAND, Aklan – Department of Environment and Natural Resources (DENR) has given land owners in this island 90 days within which to register their properties with the agency.
The declaration of the DENR came in the heels of the ruling of the Supreme Court that Boracay Island is agricultural and belongs to the government.
The business community, meantime, although discontented with the announcement does not blame the agency for coming up with the order and instead puts the culpability to previous local leaders here who did nothing to give them security of land tenure.
They also agreed to comply with the directive.
DENR executives came to Boracay over the weekend to inform the stakeholders about the said ruling.
The agency said that lots that were not registered within the prescribed time would be forfeited in favor of the government.
Priority will be given to lot owners who could prove to the DENR that they have stayed in their area for more than 30 years. (PNA)