Grenade lobbed at Treñas' ancestral house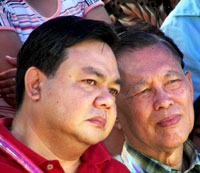 File photo shows how close Mayor Jerry Treñas and former Sec. Raul Gonzalez Sr. are during the good times.
First it was Iloilo City Mayor Jerry Treñas' pawnshop which got robbed. Second, a grenade that was lobbed at the family-owned bakeshop. And it did not end there.
Yesterday morning, another grenade was thrown at the mayor's ancestral home in Brgy. Taal, Molo, Iloilo City.
The house is occupied by the mayor's younger brother, businessman Francis Treñas, and his family.
At around 3:15 in the morning, Francis and his family were roused from their sleep after they heard a grenade explosion.
Initial check revealed a gaping hole on the pavement, destroyed windows, and shrapnels embedded at the cemented wall.
"Nahulog ko sa akon kama. Daw ka grabe gid sang impact. Gapanaog ako, puno yab-ok ang bilog nga balay kag baho pulbura," described Francis' son, Jose Efrain "Jay" Treñas.
The house's security guard claimed that he did not see the person who lobbed the grenade at the compound.
He added that tall concrete fence made it impossible for him to see people outside.
"Kung may galakat gid man, indi ko mabatyagan kay sarado," the guard added.
Even construction workers from a nearby area claimed to have not noticed any person who could have thrown the grenade.
Members of the Iloilo City Police Station 4 and the (Special Weapons and Tactics-Explosives Ordnance Division) SWAT-EOD immediately proceeded to the area.
They recovered a safety lever of the M26 A1 hand grenade, which is normally issued to members of the Armed Forces of the Philippines.
A SWAT operative said that the suspect knew the compound's layout.
"Basi nga nakaagi na siya di sulod ukon may nakasulod na di nga naghatag sa iya sang info nga within sang amo di nga area wala tawo," the investigator said.
Politics
For both Mayor Jerry and Francis, there could be no other reason of that attack than politics.
"Ah ti sa akon ya pagtan-aw politics gid kay daw katawhay man sang amon nga negosyo. Daw waay man natabo since I've operated the business 21 years na," he added.
Meanwhile, a dismayed Treñas claimed that police should solve the problem the soonest time for the same incident not to happen again.
"We feel indi na gid manami. Una ako. Tapos ang manghod ko," he added.
Earlier, Jay formed Justice, Empowerment, Responsive for Reform Youth or JERRY, which buoyed Treñas' candidacy.
Following this, he allegedly received a text message which states, "Hindi mo kilala ang binabangga mo. P—ang i-a mo, ipapatay kita."
Amid the threats they have been receiving, Francis claimed that it will not deter them to waver them in their resolve.
"In fact, it will encourage us even further," he vowed.
Treñas will be running for the city's lone congressional district against incumbent Cong. Raul Gonzalez, Jr. and former Iloilo City Mayor Mansueto Malabor.
As this developed, reports said that the incident was one of the main subjects in the command conference organized by the Commission on Elections at Police Regional Office (PRO) VI headquarters in Camp Delgado yesterday.