The search is over.
After almost two weeks of scouting, the Police Regional Office (PRO) VI finally found an officer to replace ICPO director Senior Supt. Melvin Mongcal.
Condom is no solution to HIV-AIDS.
This, Human Life International (HLI) stressed following the Department of Health's plan to procure condoms and other contraceptives.
Human Life International is an American based Roman Catholic activist pro-life organization. Founded in 1981 by Fr. Paul Marx, HLI is found in 160 countries.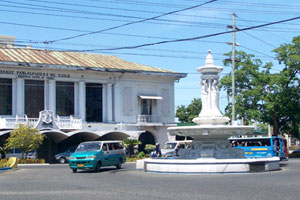 EC GARCIA
Some 90 residents of Sara, Iloilo underwent blood sampling to test if they were infected with Hepatitis A virus.
Another armed skirmish between Army soldiers and the New People's Army ensued Sunday morning at the mountainous village of Jona, some 5 kilometers from the town proper of Tubungan, Iloilo.