LWUA chief blames MIWD execs for city's water woes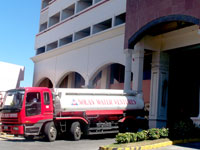 Hotels and other commercial establishments in Iloilo City now depend on private water suppliers for their water needs as water from Metro Iloilo Water District (MIWD) becomes scarce.
Water consumers in Iloilo City dependent on Metro Iloilo Water District (MIWD) could have avoided the severe problem on water shortage compounded by the El Niño phenomenon if only the water district's board of directors (BOD) listened to the Local Water Utilities Administration (LWUA).
LWUA chair Prospero Pichay said that last year they have offered to help MIWD but the latter's BOD merely turned down their offer.
Pichay said that they have proposed to MIWD to make wells in the nearby towns of San Miguel, Oton, Leganes and Sta. Barbara to serve as alternative sources of water aside from the existing source.
"The BOD apparently did not want our help. I don't know what is their agenda," Pichay lamented.
Pichay said making wells in the nearby towns could have helped MIWD increase its water supply. He said the plan is feasible since there are already existing pipelines.
Pichay added, the entire BOD of MIWD should be replaced for being incompetent.
"We are ready to take over MIWD. We are just waiting for the request of the LGU or the public for us to take over," Pichay said.
The LWUA chief also criticized MIWD for awarding contracts to five suppliers in its bulk water supply project. "Where can you find a bidding where there are five winners?" Pichay asked.
MIWD has implemented a water rationing scheme in its service areas due to the onset of the dry spell brought by El Niño phenomenon. The MIWD service areas include Iloilo City and the towns of Maasin, Cabatuan, Sta. Barbara, Pavia, San Miguel, Oton and Leganes. The water district has 31,000 to 32,000 service connections.
The water rationing was implemented after a tremendous decline in water level at Tigum River, MIWD's primary source of raw water supply. Under normal conditions, the MIWD is producing 28,000 to 30,000 cubic meters. The water production dropped to 21,000 cubic meters a day.
A few months ago City Councilor Julienne Baronda lambasted MIWD for being inept and inefficient in its services despite an outstanding loan of P408 million.
MIWD's board chair Celso Javelosa, however, considered Baronda's tirades then as politically motivated. Baronda is running for vice mayor of Iloilo City.
"The problems are arising now and then. We intend to be transparent and tried to be correct. We don't want to be onion-skinned," Javelosa was then quoted as saying.