City bets sign covenant amid political skirmishes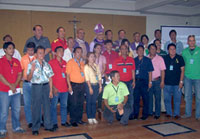 Iloilo City candidates pose for a souvenir photo with the Jaro Archdiocese clergy after a day-long recollection and signing of a peace covenant last Saturday.
Amid the series of alleged politically-related incidents in the city, the Archdiocese of Jaro gathered candidates here for a recollection at the Jaro Metropolitan Cathedral compound last Saturday.
It was noted however that the two protagonists — Iloilo City Mayor Jerry Treñas and former Secretary Raul Gonzalez Sr. — together with some of the candidates under their line-up did not attend the activity.
Jaro Archbishop Angel Lagdameo said all candidates in the city were given invitation to attend the recollection and signing of the peace covenant.
Lagdameo said Gonzalez Sr. called to inform that he would not be able to attend the activity because his son was hospitalized. It was not immediately known why Treñas was absent.
After the recollection the candidates signed a peace covenant which they then submitted to Lagdameo.
These include Vice Mayor Jed Patrick Mabilog, Councilor Julienne Baronda, former mayor Mansueto Malabor, Larry Jamora, perennial candidate Mel Carreon, Juanito Gaje, and several others running for councilor.
Mabilog and Jamora are both running for the mayoralty post, Baronda as vice mayor, Malabor and the independent Gaje for congressman.
"... That we will uphold the Constitution, obey all laws/ordinances of land, including the pertinent COMELEC memoranda/resolutions governing the conduct of peaceful, orderly, honest and credible elections this coming May 10, 2010," part of the covenant reads.
"... That we will conduct ourselves in gentlemanly manner in all our dealings with our fellow candidates and we will only discuss legitimate political issues and lay down our platform of government through free and friendly manner."
Meanwhile, aside from the said promises, the candidates also promised to "renounce the use of threat, violence, vote buying, or its variations, force, intimidation, partisan/private armed groups (PAGs) and such other illegal means in furtherance of their political interest."
Despite that not all candidates singed the covenant, Iloilo City Election Officer II Jonathan Sayno said that the event was successful.
"Ang aton peace covenant signing nangin madinalagon kay ginpangunahan ini sang aton simbahan kag PPCRV, city Comelec kag PNP," he added.
From the Comelec side, Sayno was joined by acting Iloilo City election officer IV Mr. G. Bert Arbis.
The church, on the other hand, was led by Archbishop Angel Lagdameo of the Archdiocese of Jaro and Fr. Mark Lester Senina, Assistant Director of Jaro Archdiocesan Social Action Center.
Also present were Henrietta H. de Villa of the Parish Pastoral Council for Responsible Voting (PPCRV) National, PNP deputy regional director for operations (DRDO) Senior Supt. Melchor Fajardo, Iloilo City Police Office (ICPO)officer-in-charge Supt. Eugenio Espejo and other ICPO officers.
Meanwhile, Fajardo expressed his support to said activity as he represents the PNP in its call and advocacy for credible elections.