What's in a Wish?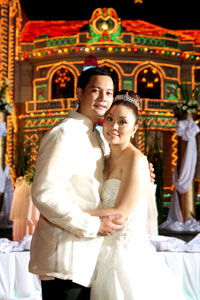 Alfred Conrad and Natasha Mae Portillo.
The Wedding of Natasha Mae Bedia Lee and Alfred Conrad Norada Portillo
It must have been the longest kiss at the altar when Alfred married Natasha. Too long was the kiss, the groom's mother had to prod them to stop. But they're in love. The Portillo – Lee nuptials took place at the St. Joseph the Worker Parish with the bride arriving in a 1949 Chevrolet causing one of the ninangs to gasp and wish she can get married again. And it must have been the longest bridal train as Natasha walked to Alfred in her Cris Rogador gown. The reception was set against the sprawling grounds of colonial Angelicum. Awashed in the splendor of December lights, guests warmly partied in the cool post-Christmas breeze in turquoise, silver and cranberry – the color themes of the couple. Noteworthy was the towering cake of Cakeworks. Nobody can come close to Yvonne Caacbay when it comes to creating wedding cakes in this part of the globe.
Natasha said she will get married in 2009. When she said that, she didn't have a boyfriend yet. Call it premonition. Or let's just say, never be afraid to wish. It might just come true. With Alfred in her arms, she got more than what she asked for and very happily at that.