40 Iloilo towns report El Niño damage — PAO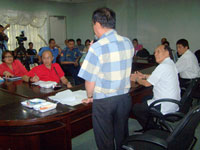 Provincial Disaster Coordinating Council (PDCC) executive officer Jerry Bionat (back to the camera) briefs the council members of the impact of El Niño phenomenon in the province as Gov. Niel Tupas Sr. and provincial agriculture officer Ildefonso Toledo intently listen.
Iloilo Governor Niel Tupas Sr. yesterday called for an emergency meeting of the Provincial Disaster Coordinating Council (PDCC) amid his request for the Sangguniang Panlalawigan to declare the province under a state of calamity due to the onslaught of the El Niño phenomenon.
Provincial Agriculture Office (PAO) chief Ildefonso Toledo reported that 40 out of 42 towns and one component city in the province of Iloilo are affected by the dry spell.
Toledo said based on the report of the different municipalities a total of 31,570 hectares of rice plantations have been damaged equivalent to a production loss of 36,921.44 metric tons.
He said the damage report could still increase as they continue to receive reports from the municipal agriculture officers.
Toledo however said, except for rice there is no reported damage yet on corn, livestock and fisheries.
Earlier, Tupas wrote the Sangguniang Panlalawigan asking for the declaration of a state of calamity.
"Clearly, there is a need to implement an emergency relief and rehabilitation program to mitigate the impact of the drought on farmers and their families. This program of action will seek to soften the economic impact of the drought and give direct rice assistance to affected families to help them stave off hunger. As projected by PAG-ASA, the prolonged drought will not end until July 2010," Tupas in his letter said.
"In this regard, may I request that the Honorable Sangguniang Panlalawigan declare a State of Calamity to cover the affected areas and authorize me to utilize a portion of the 5% calamity fund not to exceed P5 million to provide the necessary relief and rehabilitation assistance needed to tide them over in this period of natural calamity," the governor added.
Toledo said the calamity fund if released could be used to rehabilitate or repair the small scale irrigation systems in the province. Small scale irrigation systems refer small water impounding dams, diversion dams and check dams.
He added the money could also be used to buy rodenticides to combat the resurgence of pests due to the hot temperature.
Meanwhile, the Sangguniang Panlalawigan in yesterday's regular session referred to the committee on agriculture chaired by Fourth District Board Member George Demaisip the governor's request for a declaration of a state of calamity.