AFP chief to men: Violate gun ban, face dismissal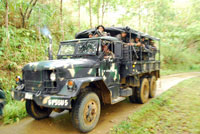 An Army truck loaded with soldiers patrol the hinterlands of Central Panay. Armed Forces Philippines chief of staff Gen. Victor Ibrado warns soldiers against violating the election gun ban as they could be discharged from the military service.
Some 35 members of the Armed Forces of the Philippines (AFP) nationwide are now facing the risk of being discharged from the military service.
This, after AFP chief of staff Gen. Victor Ibrado ordered the investigation of the 35 AFP personnel who were earlier arrested for violating Commission on Elections (Comelec) Resolution 8714 or the Comelec gun ban since it started last January 10.
Two of the 35 AFP personnel are members of the Philippine Army's 3rd Infantry Division based in Camp Peralta, Jamindan, Capiz.
"They would be discharged from the service if they could not explain why they violated the gun ban," Ibrado told 3ID soldiers the other day.
For officers, they will be subjected to the (Efficiency and Separation Board). "You should remember, the only time that you could carry your firearms is if you are in uniform and in performance of the duty. Even if you're in the performance of your duty and you're not in uniform, you could not still carry your gun," he added.
For AFP personnel on security details with politicians, Ibrado said that they should still be uniform because it is still a violation if hey are not.
"The punishment is discharge from the service. Kailangan seryosohin natin ito. Dahil ang baril ang punot dulo ng election-related violence," he added.
Amid his reminders, Ibrado also thanked the 3ID personnel, whom he claimed are all contributory to his accomplishment.
"I spend one of the most important chapters of my career here. I can't thank every body enough. I am not where I am and have gone through today if not for your help," he told the soldiers.
Ibrado also assured that even if he will go on retirement on March 10, he still can do in whatever capacity he has to help.
He added that they should continue their good work, especially that the AFP is enjoying a very high prestige among the civilian sectors, and even among government officials
"Taas kaayo ang pagtan-aw nila sa AFP. Continue doing our jobs well," he said in conclusion.