DOST VI, ITDI support Salt Iodization Program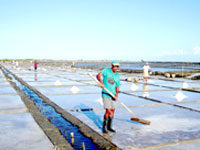 For salt farmers in Brgy. Napnud, Leganes, Iloilo the clear blue skies apparently brought by El Niño is an advantage in their production of raw salt. Leganes is one of two areas in the country chosen as beneficiary of raw salt production technology project of GAIN-UNICEF and DOST.
Aiming to assist the Iloilo salt farmers in enhancing their production of raw salt is the main objective of the Global Alliance for Improved Nutrition-United Nations Children's Fund (GAIN-UNICEF) partnership agreement. GAIN-UNICEF has contracted UNIVERS-Sel to conduct site visit and to help selected salt producers of Iloilo in developing their raw salt production by improving the retention of potassium iodate in salt.
The Department of Science and Technology (DOST) Region VI and DOST-Industrial Technology Development Institute (ITDI) were chosen to adopt the raw salt production technology. The technology will be transferred by DOST to other salt producers and selected partners who were not able to directly benefit from the project. The DOST Region VI and DOST-ITDI technical staff joined the foreign consultants during their visit to Leganes, Iloilo. The Municipality of Leganes is fortunate to have been chosen as the project beneficiary. UNIVERS-Sel has named only two (2) areas in the Philippines for their series of visits and the other chosen area aside from Leganes, Iloilo is Occidental Mindoro province.
UNIVERS-Sel consultants were Mr. Francois Lecallo and Mr. Armel Jorian and GAIN Associate Consultant for the Philippines, Mr. Edward Otico. The team conducted site visit and consultancy for two (2) days last February 16-17, 2010 in Leganes, Iloilo. Salt experts also conducted lecture on raw salt production technology to DOST VI, DOST-ITDI and other selected partners and salt producers. The consultants were impressed to see good quality of salt. However, the storage area for the salt according to them needs to be of good condition in cases where excessive moisture should be prevented which causes the loss of iodine and other nutrients in salt. UNIVERS-Sel also cited that in order for the salt producers to be successful in the implementation of the salt iodination program, the owners need to emphasize to their laborers the importance of salt iodination. Iodized salt is a special case. With only a few isolated exceptions, edible salt (sodium chloride) does not naturally contain iodine. Iodine is added deliberately as one of the most efficient ways of improving iodine nutrition. Iodine deficiency disorder (IDD) among children six to 12 years old has dropped significantly since the enforcement of the ASIN Law (An Act on Salt Iodization Nationwide) in 1995.
In 1998, the Department of Health (DOH) noted that 38 percent of the children belonging to the age group have IDD. This went down to 11 percent in 2003. The amount of iodine added varies widely in different countries. Most other countries add from 20 to 40 mcg iodine per gram of salt (20-40 ppm). Besides raw salt in general, GAIN is also interested in gathering information on the use of tiles in salt production and the fish farming practice within the salt pans. GAIN-UNICEF will conduct another follow-up activity sometime next year.
DOST Region VI is into a wide array of technology transfer and commercialization activities. For more information on any of the DOST programs and projects please contact DOST Regional Office VI at telephone numbers 320-0093, 320-0907 or 320-0908 or at any Provincial S&T Center near your area. (DOST VI)