Devotees flock to Meditation hills in Sapian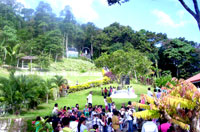 Thousands of Catholic faithfuls regularly go to this place called the "Meditation Hills" in Sitio Bankal, Maninang, Sapian, Capiz. Last Saturday, a newly-built Healing Chapel was officially inaugurated and opened to the public.
SAPIAN, Capiz – Thousands of devotees from all walks of life coming from different places flock on Friday and Saturday last week at the Meditation Hills in Sitio Bankal, Maninang, Sapian, Capiz.
The two-day activities were : (Feb. 12) Family Pilgrimage and Visitation to the Grotto and Praying of the Holy Rosary from 6:00 to 12 noon and 5:30 p.m. was the holy Rosary at the Grotto (Vesperas) celebrated by Rev. Fr. Eugenio Caldeo, Jr., candle lighting and blessing of the faithful and fireworks display.
On Feb. 13, at 8:00 motorcade for Mama Mary and mass with blessing of "The Healing Chapel" spearheaded by lawyer Jose Villanueva and members of the family who own the property and founder of the Meditation Hills.
Villanueva said that on the early part of February 2005, guided by a divine inspiration, his family, headed by him and wife Violy with full support of their children, Dr. Karen A. Villanueva-Timbol and Atty. Joevanni A. Villanueva, transformed a 5-hectare hilly and forested property in the said place into what is now known as Meditation Hills, the site of the Grotto of Our Lady of Lourdes.
According to him, it was conceived out of love and devotion to the Virgin Mary, conceptualized to be a place of worship and prayers, where the Grotto of Our Lady of Lourdes, would stand at the top of the hill and chapel to be called "The Healing Chapel" as its foot.
"This 'inspired dream' is now a reality," Villanueva said adding that in retrospect, Meditation Hills was blessed and opened for public visitation on February 11, 2006, and shortly thereafter the ground breaking for the construction of the chapel followed.
He said that through sheer determination and help from God-loving relatives and friends, the chapel after four long years of an inspired work of art, is finally completed. A place of worship and a perfect sanctuary for hopeful souls and firmer believers that up there exists an infinite power to heal mankind's physical and spiritual ailment – The greatest healer of all- the Lord our God.