City releases P4M for repair of historic building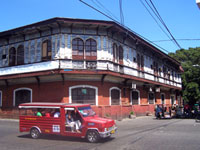 This century old Elizalde & Co. building in JM Basa St. is said to be a remnant of a progressive commerce and trade in Iloilo City during the time when it was still called the "Queen City of the South".
The Iloilo city government released P4 million for the repair of the century old Elizalde and Co. which houses the Commission on Audit.
Mayor Jerry Treñas said the city government has already turned over the check to COA officials.
Treñas said the P4 million is not considered as rental fee even though several offices of the city government occupy the building. It is the city's help to the COA as the structure needs repair, said Treñas.
The old COA building used to house 11 city government offices such as the Local Civil Registrar, City Planning and Development Office, City Health Office, General Services Office, Population, City Local Government Office, Human Resource Management, City Tourism, Barangay Secretariat, PESO and city COA.
COA officials asked the city government to vacate the building since they are going to renovate the historic Elizalde building. The old Elizalde building is a symbol of a progressive commerce and trade in Iloilo.