Five nursing schools in Western Visayas are on the brink of losing their "recognized status" if they will continue to perform below par in the upcoming board exam.
A morning fire totally gobbled 12 houses and partially damaged 5 others in the populated area of Zone 8, Brgy. Veterans Village, Iloilo City.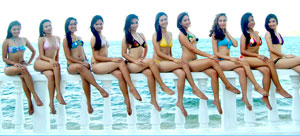 JACK TENTIA/ PALI
With the El Niño phenomenon already being felt in the country, government agencies and local government units in Western Visayas have started taking actions to mitigate its effects in line with the national government response.