Iloilo City Police Office (ICPO) has ironed out possible security glitches relative to the celebration of the Kasadyahan and Dinagyang Festival on January 23 and 24, respectively.
In spite of the popularity and the prestige reached by the Dinagyang Festival having been chosen the Best Tourism Event in the country for three straight years, still its religiosity is not at all forgotten since its evolution through the years.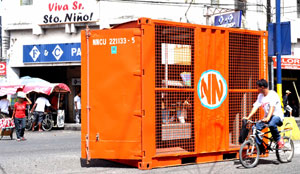 ARNOLD ALMACEN / PPP ILOILO
Bangko Sentral ng Pilipinas warns Ilonggos on the possible proliferation of counterfeit paper bills this 2010 Dinagyang Festival and feast of Nuestra Señora de la Candelaria in Jaro District.
BSP deputy director for Iloilo Job Nepumoceno said people should exercise precautionary measures in receiving paper bills when dealing with different transactions. The advocacy in detecting fake paper bills is on their priority list.