Effective Monday, January 25, six members of Balasan Police Station will take a quite lengthy absence from the police service.
The Iloilo Dinagyang Foundation Inc. (IDFI) has received P11.5 million in cash and pledges with nearly three days left before the 2010 Dinagyang festival. Surprisingly, the amount is much bigger than the foundation's estimated budget of P9 million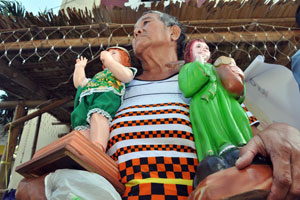 ARNOLD ALMACEN / PPP ILOILO
While waiting for the sights and sounds of the final days of the 2010 Dinagyang festival, locals and visitors will enjoy the delectable aromas and flavors of local delicacies as the food festival starts today.