Despite an intense monitoring of anti-narcotics authorities, known drug personalities have found a way to still trade illegal drugs this coming Dinagyang Festival on January 23 and 24.
Additional 190 neophyte soldiers boosted the Philippine Army's anti-insurgency efforts and internal security operations in Panay and Negros islands, and even in Mindanao.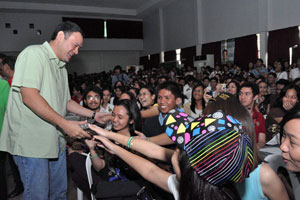 ARNOLD ALMACEN/ PPP ILOILO
The joint venture of FF Cruz Corporation and Freyssinet Construction offered the lowest bid for the construction of the proposed seven-storey new Iloilo City Hall building. They posted a bid price of P388 million.