Police checkpoints will now be a common sight among commuters in the advent of the implementation of the total gun ban.
Both the Iloilo City Police Office (ICPO) and the Iloilo Police Provincial Office (IPPO) said that they have placed checkpoints in strategic areas in the city and province of Iloilo.
City Commission on Elections (Comelec) officer Jonathan Sayno clarified that road checkpoints relative to the election gun ban shall be manned by police officers in uniform and must be located in well-lit areas.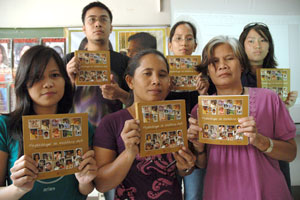 ARNOLD ALMACEN/PPP ILOILO
Iloilo City will again attempt to set a world record to the Guinness Book of World Records through the "Salvo of a Thousand Drums" which is part of the Dinagyang Festival. It would be a spectacular event, said Dr. Febe Cang, chair of the 2010 Tambor, Trumpa, Martsa Musika of the Iloilo Dinagyang Foundation Inc. (IDFI).