MORE than 9,962 new and old commercial establishments in the city are reminded to renew their business permits before the Jan.20 deadline. There is no extension for the renewal of the permits.
ILOILO City's flood control project is almost six percent ahead of schedule as shown by its latest accomplishment report of 81.29 percent.
The P4.2 billion project, which is funded under the Japan Bank of International Cooperation (JBIC) 25th Yen Loan Package,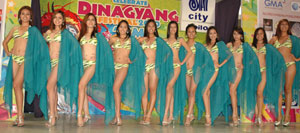 ARNOLD ALMACEN/PPP ILOILO
ILOILO CITY has total voters' registrants of 243,861 after the extended voters registration ordered by the Supreme Court ended December 29, 2009, said City Comelec election officer Jonathan Sayno.
THE Department of Public Works and Highways (DPWH) is constructing 17 bridges in Region 6 this year.