President Gloria Macapagal-Arroyo is slated to set foot in Iloilo City Tuesday afternoon for a site inspection of the city's second flyover, according to Presidential Assistant for Western Visayas Raul Banias.
Fund intended for the repair of infrastructure projects that were damaged by typhoon "Frank" in Panay Island last 2008 is expected to be released early this month. Public Works and Highways regional director Rolando Asis disclosed that Panay will receive P1-billion for repairs and replacements of damaged structures which will be taken from the P12-billion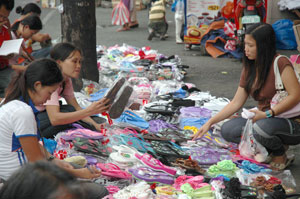 ARNOLD ALMACEN/PPP ILOILO
ILOILO Governor Niel Tupas has ordered a probe on the escape of three inmates at the Iloilo Rehabilitation Center (IRC) which led to the death of one escapee.
Iloilo City lone district Rep. Raul Gonzalez Jr. stressed that his office is responsive to the concerns of the urban poor, especially on housing.