Members of the Philippine Army gave another blow to the New People's Army (NPA) after overrunning one of the latter's camp in Southern Iloilo yesterday morning.
Panay Energy Development Corporation (PEDC), an affiliate of Global Business Power Corporation (GBPC), launched yesterday the construction of a 138 kilovolts (kV) transmission line going to the substation of National Grid Corporation of the Philippines (NGCP) in Sta. Barbara, Iloilo.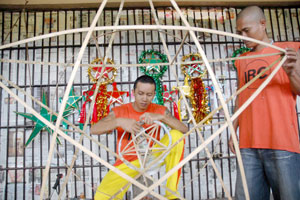 ARNOLD ALMACEN / PPP-ILOILO
Iloilo Dinagyang Foundation Inc. (IDFI) president Lee Chuan said they are optimistic to reach the P9 million estimated budget for 2010 Dinagyang Festival despite the economic crisis.