As Congress debated over the fate of Martial Law in Maguindanao, journalists, lawyers, and militant activists in Iloilo City held a caravan yesterday to call for justice for the victims of the country's worst election-related violence.
Still, all of 180 barangays in Iloilo City remain drug-affected. Records from the Philippine Drug Enforcement Agency (PDEA) VI revealed that 9 of the 180 barangays are considered seriously affected; 18 are moderately affected; and 153 are slightly affected.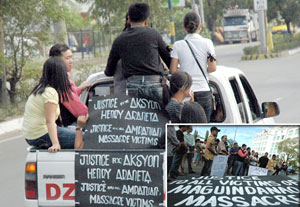 ARNOLD ALMACEN / PPP-ILOILO
National Irrigation Authority (NIA) has called on farmers to use water wisely with the onset of the El Niño phenomenon which started to dry up most of the rivers where irrigation waters come from. In an advisory sent to The News Today, NIA Regional Office warned that water supply for irrigation started to reduce last month (November) and is expected to last until March or April next year due to the El Niño.