The number of candidates for the May 2010 elections in Iloilo City increased compared to the number of candidates in the 2007 elections. There are 57 candidates who filed their certificates of candidacy for the 15 local elective posts.
City Comelec Assistant 2 Jonathan Sayno said there are four candidates for congressman, five for mayor, six for vice mayor and 42 for councilor.
A total of 40 bets filed their certificates of candidacy (CoC) for various positions at the Commission on Election (Comelec) Provincial Office at the end of the filing period midnight of Tuesday. Five candidates will vie for governorship, two for vice governorship, 21 for board members and 12 for representatives. Remarkably, in the First District only incumbent Rep. Janette Loreto-Garin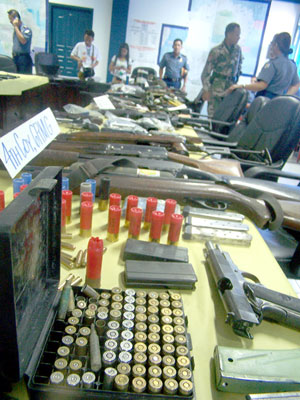 TNT FILE
More than 40,000 unlicensed firearms still abound in Western Visayas despite the recent firearms amnesty program of the government.