The regional office of the Office of the Ombudsman Visayas is currently conducting a thorough investigation on the criminal and administrative complaints filed against Iloilo City Councilor Julienne "Jam" Baronda.
The political battle has begun. Immediately after filing his certificate of candidacy, Lakas-CMD-Kampi mayoralty candidate for Iloilo City Raul Gonzalez Sr. slammed the administration of his erstwhile ally Mayor Jerry Treñas.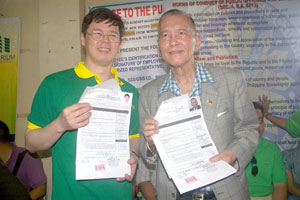 ARNOLD ALMACEN / PPP-ILOILO
Iloilo City Mayor Jerry Treñas yesterday described the issues raised against him by his political opponents as a product of "traditional and old politics." He said, he would rather not deal on the issues since his life is open to the public.