Senator Franklin Drilon yesterday endorsed the "triple J" team for Iloilo City in next year's election while he called on voters to reject the "triple G".
GENEVA — The Press Emblem Campaign (PEC) set up to push for an international treaty to protect journalists, on Tuesday condemned the political massacre in the southern Philippines that left 12 reporters dead. "This crime against humanity, that surpasses all imagination,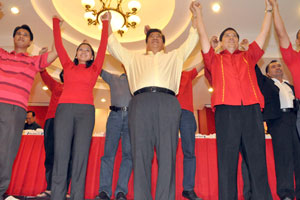 ARNOLD ALMACEN / PPP-ILOILO
Secretary Ray Anthony Roxas-Chua III of the Commission on Information and Communications Technology (CICT) lauded Iloilo City or being one of the top new wave cities in the country, during the opening of the Convergence 2009, here.