There's no stopping City Councilor Julienne Baronda from running as vice mayor in next year's election. Yesterday she officially declared her vice mayoral bid in front of her supporters and political allies at the Coral Ballroom of Amigo Hotel.
City Mayor Jerry Treñas yesterday deferred the announcement of his group's complete slate because of some "hitches" that he did not elaborate.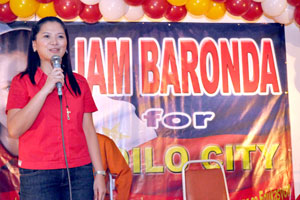 ARNOLD ALMACEN / PPP-ILOILO
Iloilo City being identified as one of the new wave cities in the country will be the next venue of the Convergence 2009 set to be held November 25 to 26, 2009.