The Department of Health (DOH)-Center for Health Development 6 here noted an increase in the measles cases in Western Visayas with Iloilo on the top list registering 33 out of the 41 confirmed measles laboratory results.
Leon Mayor Romulo Cabana, political campaign manager of the Syjucos, yesterday said that they are not at all bothered by the intention of Ramon "Citoy" Arenas, son of socialite Rosemarie "Baby" Arenas, to run for congressman of the second district in next year's election.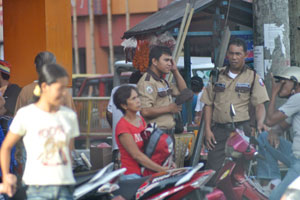 ARNOLD ALMACEN / PPP ILOILO
The Regional Epidemiology and Surveillance Unit (RESU) of the Center for Health Development-Department of Health (DOH) has not recorded any new case of A(H1N1) in the region since September this year. Nurse Coordinator Christina de Guzman said as of September 19, 2009, the A(H1N1) cases remained at 66 cases.