ROXAS CITY – Tension gripped Barangay IX here yesterday morning after the provincial sheriff tried to execute the demolition of 155 houses standing on Lot No. 145-A and 1839-pt.
The Office of the Ombudsman Visayas has found enough basis to proceed with the preliminary investigation and administrative adjudication proceedings of criminal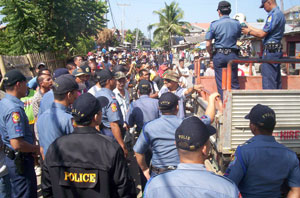 JOEL E. CAPUNDAN
City Mayor Jerry Treñas yesterday turned-over five multi-cabs and two L-300 vans to the Iloilo City Police Office (ICPO). The donations are part of the continuing commitment of the city government to the police.