The provincial government of Iloilo recently acquired multi-million medical equipment for two district hospitals in the province but was returned by recipient hospitals for being unreliable, unusable and producing erroneous results.
Iloilo City Police Office (ICPO) Director Sr. Supt. Melvin Mongcal said they are verifying the possible involvement of drug suspects in the Basag Kotse operation after arresting two persons involved in illegal drugs who had hammer, towel and carton in their possession.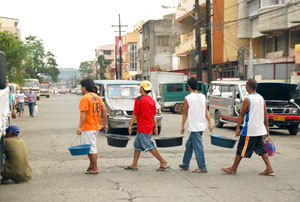 A.CHRIS FERNANDEZ
Armed with a nightstick, tear gas and handcuffs, the 100 police auxiliaries hired by the Iloilo city government start their tour of duty today after completing a one-month training. They will serve as force multiplier to the current police force of the Iloilo City Police Office (ICPO). ICPO director Sr. Supt. Melvin Mongcal said the police auxiliaries will be deployed among the six districts in the city. They will be distributed depending on the area and number of population of each district.