For selling less than a gram of methamphetamine hydrochloride or shabu, a top drug personality was sentenced by the trial court to life imprisonment yesterday morning.
BACOLOD CITY — Three distinguished Bacoleños were honored yesterday as "Banwahanon Awardees" during the 71st Founding Anniversary celebration of the city. Executive Secretary Eduardo Ermita, who was invited as Keynote Speaker,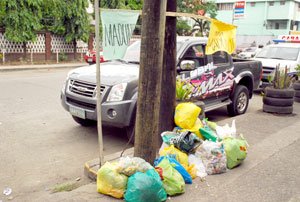 A.CHRIS FERNANDEZ
Regional Epidemiologist Dr. Glen Alonsabe urged the farmers to wash their feet after they have toiled their rice paddies since they are susceptible to leptospirosis. They are considered as "high risk" individuals to catch the disease.